What happens if Uber Eats can't find a driver for your order? It's a question you might face if you place an order and find that you're waiting a long time for someone to deliver your order. The short answer is that if this happens, Uber Eats will allow you to cancel the order and issue you a refund directly to the payment method that you used.
Note that it's fairly rare that this happens. Most of the time, Uber Eats will eventually find a driver to deliver your order. Still, when this happens, it can be frustrating.
In the remainder of this post, we'll take a detailed look at what happens if Uber Eats can't find a driver, then go into some of the reasons why this might happen in the first place (and how you can avoid this problem).
What Happens If Uber Eats Can't Find A Driver? 
As stated at the beginning of this post, if Uber Eats can't find a driver, you can cancel the order and receive a refund.
Whenever you place an order with Uber Eats, it'll provide an expected delivery time, as well as the latest delivery time. Uber Eats makes clear that so long as the order arrives within the latest delivery time, it'll be considered on time and no credits or refunds will be offered. 
To cancel an order that is taking too long because Uber Eats can't find a driver, you'll need to contact Uber Eats using the Uber Eats app and get them to cancel the order for you. This is an easy process. You'll need to click the help button in the app, then click that you have an issue with an ongoing order. From there, you'll be to select the issue you're having (in this case, you'd select "My order is taking longer than expected.").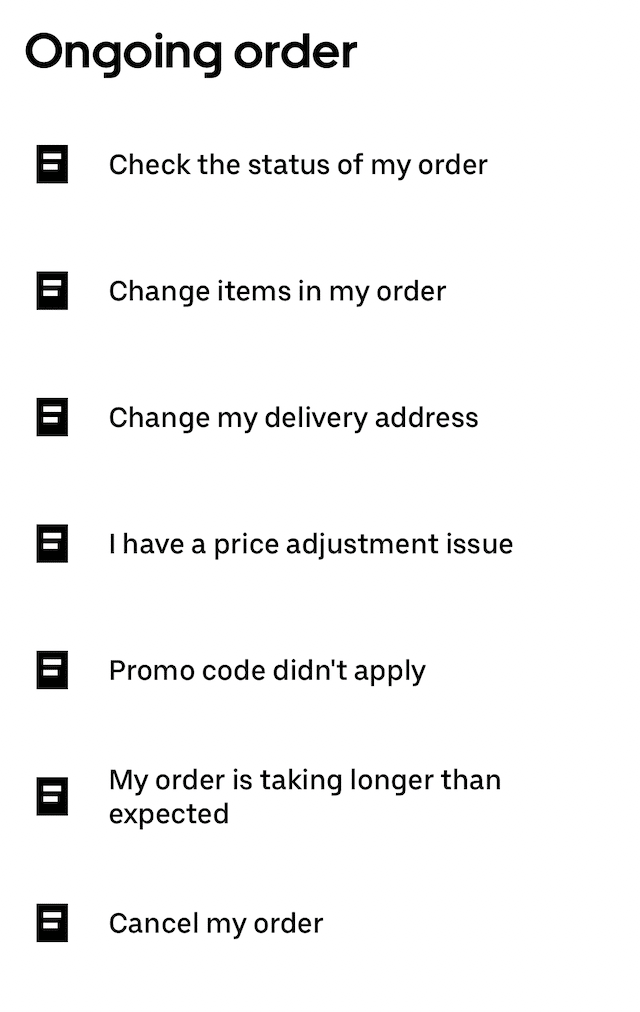 After you've selected the issue, you'll be able to chat with a customer service representative, who can then assist you.
Remember that you need to wait until the latest expected delivery time can't be met. Uber Eats will update the app when your order is delayed and once you hit that point, you'll be able to cancel the order and get a refund.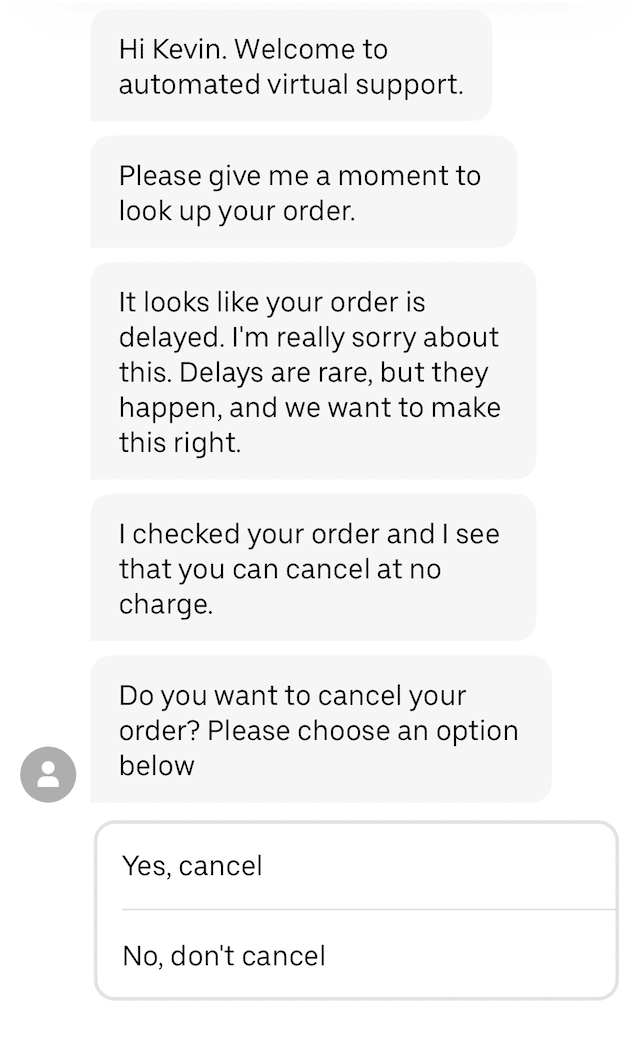 In some circumstances, you may be able to complain and get some Uber Eats credits as well, rather than canceling the order entirely. Specifically, if you opt to cancel, Uber Eats will give you the option to get some Uber Eats credits if you opt to keep your order (typically they'll give you 20% of the purchase price).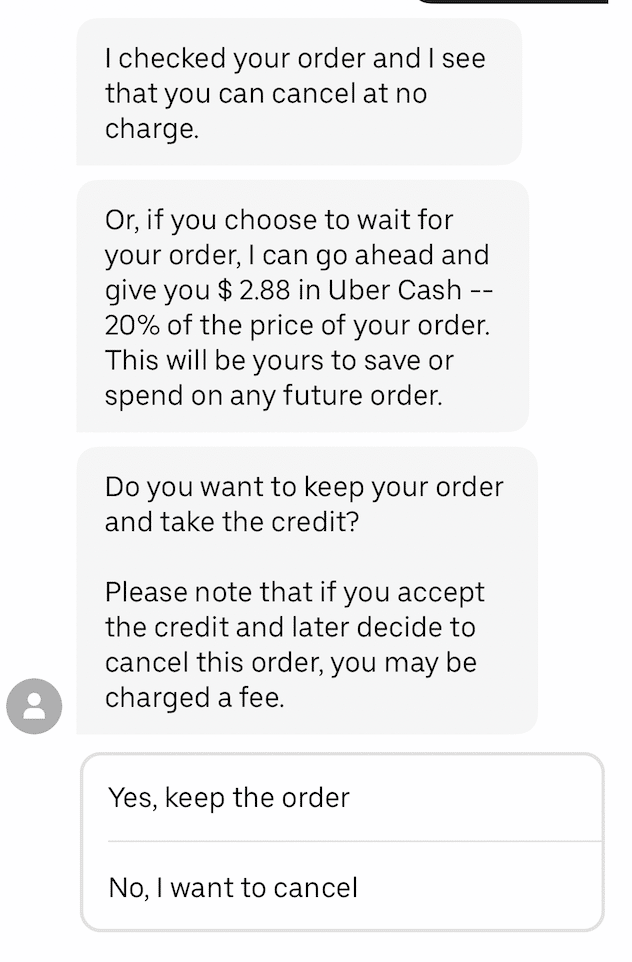 Reasons Why Uber Eats Can't Find A Driver 
If you find that Uber Eats can't match you with a driver, here are the most likely reasons that it's happening.
1. You Didn't Tip Your Driver  
The main reason Uber Eats might not be able to find a driver is that the customer didn't tip.
Uber Eats payouts are made of three parts – (1) the base payment, (2) the tip, and (3) any bonuses that Uber Eats is offering. Most of the time, the base payment for Uber Eats Drivers is low, which means if you don't leave a tip, Uber Eats Drivers will only make a few dollars for completing your delivery. That means your order will get rejected by most Uber Eats Drivers and accordingly, will sit there until someone is willing to accept the order or until Uber Eats increases the amount they pay for the delivery.
Remember, Uber Eats couriers are independent contractors. That means they don't work directly for Uber Eats and have the right to accept or reject any orders they get. 
With this information, a good rule is to provide a good tip when you're ordering delivery. Not only is it the right thing to do, but it'll also increase the odds that your order gets picked up quickly.
2. You Live Far Away From The Restaurant
As we've stated, Uber Eats Drivers are paid per delivery, so if you live far away from the restaurant, many drivers may reject your order because it requires too much travel. Uber Eats drivers can see where the customer is located, so any driver looking at an order request is going to consider the distance when deciding whether to accept or reject a delivery request.
Unfortunately, the only real way around this problem is to make sure your order is enticing enough to get a driver to accept it. If you live far from the restaurant, you need to make sure to give a generous tip so that the order will be worth it for the driver. 
3. There Aren't Enough Uber Eats Drivers Available to Pick Up Your Order 
In some circumstances, Uber Eats can't find a driver simply because there aren't any Uber Eats Drivers available. This will usually only happen during off-hours – think early morning or late night hours.
If you're ordering during normal hours and no one is picking up your order, then it's more likely that you didn't tip enough or your order is going too far away to make it worthwhile to accept the delivery.
If you've given an appropriate tip, don't live too far away from the restaurant, and are ordering during normal hours but still are having trouble finding a driver, then there's also the possibility that there's an app issue (like the Uber Eats app crashed or something else is going on).
Final Thoughts 
If Uber Eats can't find a driver, you'll get a refund from Uber Eats directly to the payment method you selected. Most of the time, this will happen automatically. If you can't wait for it, you can also contact Uber Eats and have them issue you a refund manually.
Either way, if Uber Eats can't find a driver, you don't need to worry too much. You will get your money back eventually.