One of the most annoying things about being a Dasher is how the DoorDash app crashes every once in a while. It can be pretty frustrating when it happens. Even worse, it always seems like the app crashes during the most inopportune times – think during the Friday evening dinner rush. 
I don't mean to make it sound like the DoorDash app crashes all the time. To be fair, it's fairly uncommon. That being said, if you dash for long enough, you will inevitably run into a time when the app crashes. And when this does happen, you'll probably notice it because you're not getting orders, or you're getting error messages when you try to log in, or you already picked up the order but then can't deliver it because the app is down. 
In this post, we'll look at how to check if the DoorDash app has crashed and discuss what you should do when it happens and the strategies you can use to minimize the impact when the app crashes.
How To Check If The DoorDash App Crashed 
Unfortunately, the DoorDash app never tells you that it's down. If the app is down, you'll have to figure it out yourself. Most often, you'll notice one of the following things happening:
You aren't getting orders; 
You have issues logging into the app, 
The app is lagging;
The app keeps pausing on you;
You pick up an order, then find you can't complete it. 
If you suspect the DoorDash app is down, the best way to confirm is to go to the DoorDash help Twitter account. That account will usually give you updates about the status of the DoorDash app.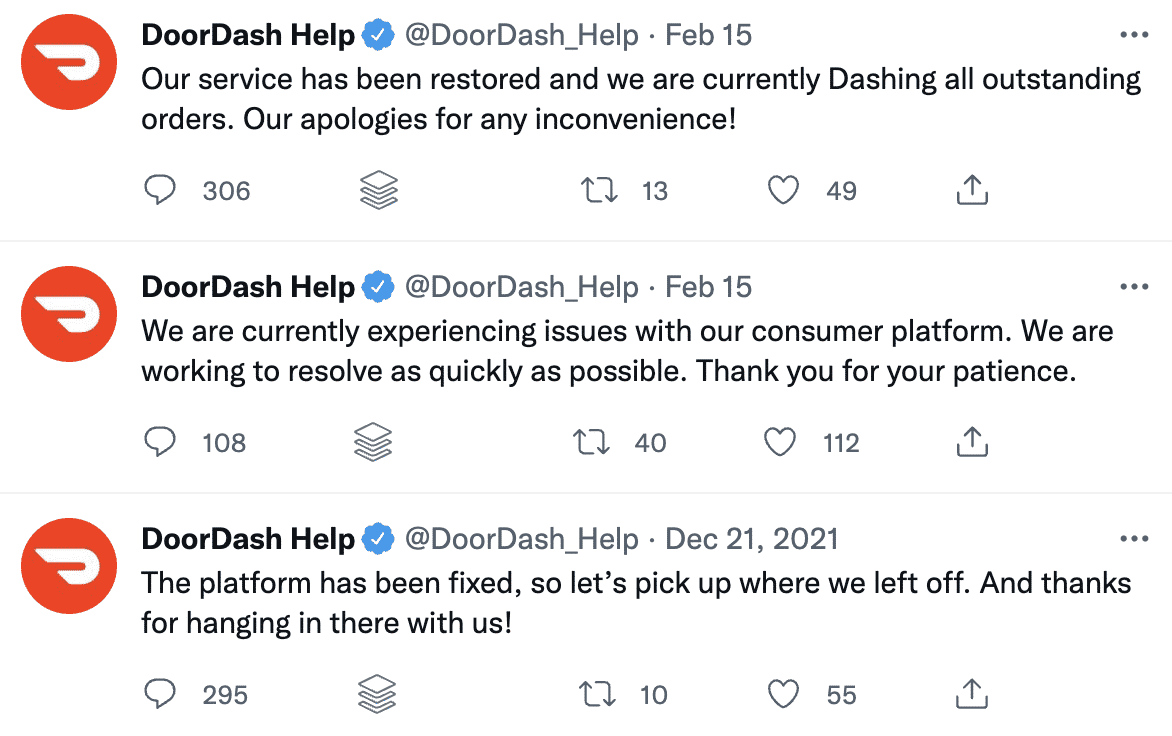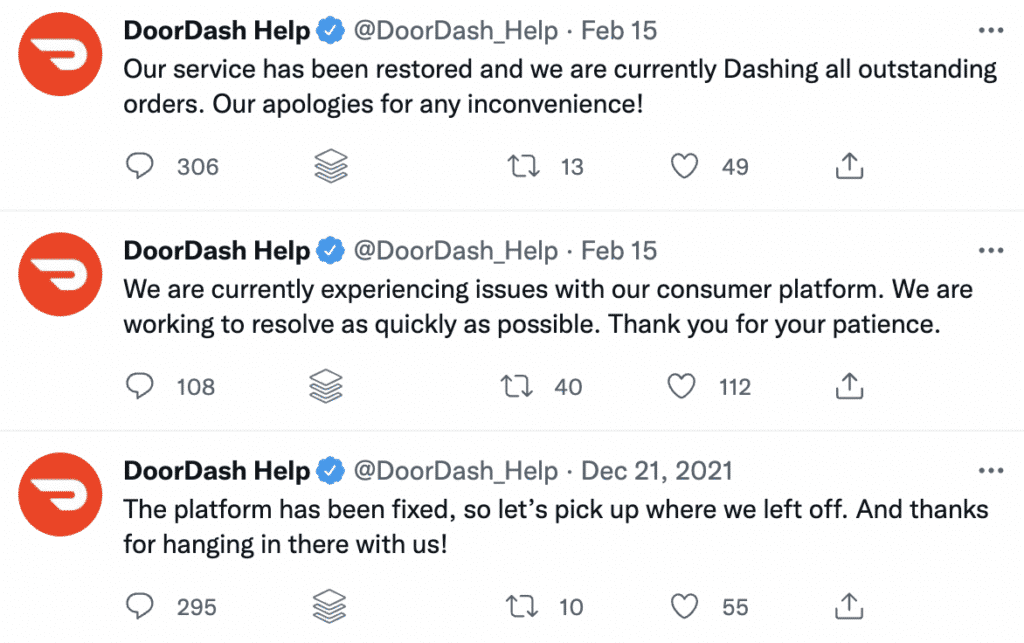 If you don't see anything there, another good way to find out if the DoorDash app is down is to search for the term "DoorDash" on Twitter. You'll usually find people complaining that DoorDash is down. 
Finally, another place you can check to see if DoorDash has crashed is the DoorDash subreddit. If the app is down, you'll usually find people talking about it there too.
What To Do When The DoorDash App Crashes  
If the DoorDash app crashes, there really isn't much you can do about it. My best advice is to forget about DoorDash for a bit. You'll usually need to wait at least a few hours for things to get back to normal. 
The only time you might have an issue is if you picked up an order and can't deliver it because the app is down. In that situation, I recommend contacting customer service and letting them know.
The problem here, however, is that when DoorDash crashes, the wait time for customer service is going to be really long. If you want to be safe though, you should give them a call so you can let them know what's going on and make sure that you don't get penalized for not completing the order.
The good thing is that you'll likely get to keep the order that you already picked up. So hopefully, it's good food that you can eat!
Strategies To Minimize The Impact Of When The DoorDash App Crashes  
If the DoorDash app crashes, you need to take steps to minimize the impact it has on you. If you're not completing orders, you're not getting paid, so you need to do something else to make sure you're earning money.
There's one important strategy you need to implement to minimize the impact of app crashes – multi-apping. I've signed up for every food delivery app in my city. And whenever I do deliveries, I always turn on all of the delivery apps at the same time (DoorDash, Uber Eats, and Grubhub).
If DoorDash is down, you can still earn money with Uber Eats, Grubhub, or any other delivery apps that operate in your city. The good thing is that if DoorDash is down, customers likely aren't getting their orders, which means they may need to order from the other food delivery apps. This can mean more business for you. 
So, make sure you don't rely solely on DoorDash for your food delivery earnings. Sign up for Uber Eats and Grubhub too. And check out other gig economy apps you can use (I have a post I wrote about gig economy apps if you need ideas: The Ultimate List Of Gig Economy Apps).
And worst-case scenario – if you can't use other apps, go do something else productive. Read a book. Develop some skills. Trust me, there's always something productive you can do if you have the time.
Final Thoughts 
If you work as a Dasher for long enough, eventually you're going to run into a problem where the DoorDash app crashes. If you've prepared yourself for this scenario, you'll be in good shape and can keep earning money.
Be sure to sign up for every food delivery app you can. In this game, you never want to rely on a single app.