Hi everyone. Once again, it's time for another Financial Panther side hustle report. This time, we'll be taking a look at what I was able to earn side hustling with gig economy apps in January 2022.
Below is a breakdown of my gig economy earnings for last month. 
Side Hustle Income for January 2022
Total Side Hustle Income for January 2022 = $1,009.05 
January was a solid month and I'm happy that I was able to crack the $1,000 mark. In most years, January and February are typically my slowest months because of the weather. Since most of my gig economy apps require me to work outside, I often slow things down in the winter. 
In most months, food delivery makes up the bulk of my earnings. But you can see that if you diversify your income sources, you can make up your earnings in another category. 
Here's the breakdown of my earnings for the month by category.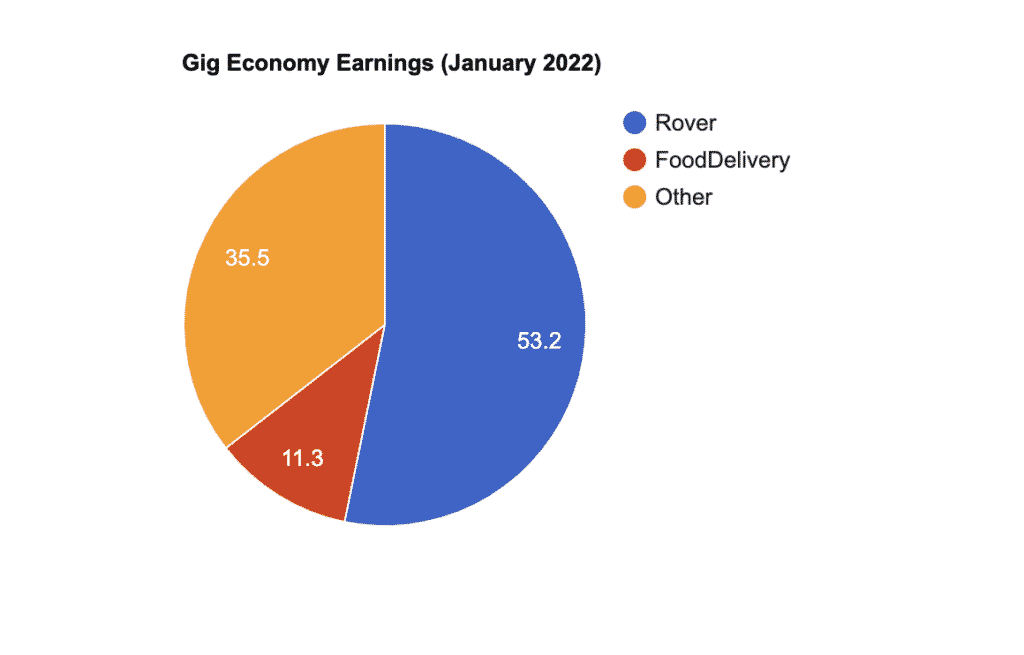 Rover made up the bulk of my earnings at 53%. Meanwhile, food delivery only made up 11% of my earnings for the month. And then the rest of my earnings were from a variety of other gigs. It goes to show that small amounts added up can be a lot more than you think. 
In the rest of this post, we'll take a deeper dive into how I earned my side hustle income last month.  
Airbnb/Rental Income Income: $2,400 
I don't do Airbnb anymore, but I still like to mention it in these side hustle reports because it's a side hustle that I found useful when I was doing it. When you're young, you can do weird things like having strangers stay in your house. And all of these weird things can significantly improve your financial position.
Now that I'm older and have a kid, doing weird things is much more difficult. That's why I think it's valuable to do weird things while you have a chance. You can become a boring old person like me later (I say this in jest – I'm only 35 years old, which really isn't that old).  
Related: For more info about Airbnb and how I used to use it to house hack, check out my post: Making Money With Airbnb In 2022: Why I Rent Out Our Guest Room. 
The rental property is doing well. As I've mentioned in previous side hustle reports, we moved last year and decided to rent our old house to college students. We haven't had any issues so far and for the most part, managing the rental has been fairly passive. The property cash flows well, clearing about $900 per month after paying the mortgage, taxes, insurance, and water bill. Combine the cash flow with the equity I gain with each mortgage payment (about $600 per month), and I'm feeling good about this property, which is earning me about $1,500 per month of cash flow and equity. I'm not a real estate expert by any means, but these numbers make sense to me. 
January was a more expensive and involved month for me though. There were some issues with the front door and the garbage disposal, so I had to get a handyman and a plumber out to fix those things. I also had to make a trip over to the house to replace a broken toilet seat. In total, I spent a little over $300 in repairs and maintenance, and about 4 hours at the house managing things.
Rover Income: $537.40 
As you could already tell, I had another good month with Rover, with it accounting for 53% of my side hustle earning in January. During the warmer months, food delivery typically makes up the bulk of my side hustle earnings since I have a lot of fun hopping on my ebikes and scooters and delivering food. However, over the past few months, Rover has continued to creep up in importance for me. It makes sense. People are starting to travel again and my new house is in a wealthier neighborhood with more people with disposable income looking for sitters. The fact that Rover essentially saved my month again proves how important it is to have multiple income streams. 
January was an interesting month because most of the dogs we watched were new clients. Watching a new dog is always a risk because you never know what you're getting into, but thankfully, every dog we watched last month was well behaved and fit in well with our lifestyle. It's always great when you find a new dog because assuming things went well, you have a good chance of getting regular, repeat business.
In addition to dog sitting, I also did a few catsitting drop-in visits for a neighbor. This person found me on Rover a few months ago and conveniently, they live one block over from me. This makes these catsitting gigs a very easy source of income. They work especially well in the winter when I'd like to limit my time outdoors.
To learn more about how Rover works, check out this post: Rover Pet Sitting – How To Make Money Dog Sitting With Rover. If you're interested, you can sign up to be a Rover sitter using my Rover referral link. 
DoorDash/Uber Eats/Grubhub Income: $114.73 
DoorDash, Uber Eats, and Grubhub were slow this month. Here's a breakdown of what I made with each delivery platform in January.
I've been doing fewer deliveries because of the weather and because I've been busy. It turns out that when you have an active toddler, you end up with less free time. It also doesn't help that the weather has been pretty crummy over the past month. While it hasn't been snowy, it has been cold. And since I do all of my deliveries with ebikes and electric scooters (and electric skateboards if anyone is willing to send me one), doing deliveries when it's cold isn't as fun as when the weather is nice. 
I suspect that delivery earnings will remain low over the next month, but things will probably ramp up again as the weather warms up and I get outside more. I'll aim to hit $500 or more in food delivery earnings when we get into March and beyond. 
This winter, I've been doing most of my deliveries with the Himiway Escape. This has become my go-to winter bike and it's what I've been using to get my son to daycare each day. I've also been trying out the Gen3 Outcross, which is a new fat-tire bike that was sent to me that I'm still testing out (keep an eye out for my full review on it soon). 
I also did a few deliveries with the Fucare H3. This is not a high-powered scooter like my Varla Eagle One, but it gets the job done. For winter riding, it's not the best though, so I'll probably stick to the Himiway or Gen3 for the winter. 
For more information about the different food delivery apps I use, feel free to check out the detailed posts I've written about each: 
Trash/Flipping Income: $90.90
Last month, I sold a few bar stools and some board games that I found at Goodwill. Goodwill usually isn't the best for board games, but I've been getting lucky lately. Most of the time, I keep the good games I find for myself, but if I find multiples of the same game or I find a good game I already own, I go ahead and sell them for a small profit.
In this case, I sold a sealed copy of Ticket to Ride and then an interesting old game I found called Wise and Otherwise. I also found a copy of Settlers of Catan but gave that to my sister-in-law since she didn't have the game yet. Ticket to Ride surprisingly did not generate much profit for me – I'm surprised at how cheap this game sells for on eBay. Wise and Otherwise was good though. I sold it for $35 and bought it for $4. 
My main goal with flipping stuff at Goodwill is mainly to cover the cost of things we buy there for ourselves. It's something I recommend you try as well – Goodwill has great stuff and if you're able to cover your purchases with the stuff you flip, it's like you're getting stuff for free.
WeGoLook Income: $12 
I earned $12 from WeGoLook in January by completing an exterior photo gig. These types of gigs are always easy – all I have to do is take a few photos of a house. It usually takes me a few minutes to complete these gigs and so long as they're near me, they're worth doing. I don't go out of my way to do these gigs except in the summer if I want to get a nice bike ride in.  
ProductTube Income: $25  
I made $25 from ProductTube in January. That's a good number to see. ProductTube died on me in December, so it's good to see that I was getting more ProductTube gigs again in January. I almost always do these gigs in the morning after I drop my son off at daycare. Most of the gigs can be done at Target and there's a Target one block from the daycare. 
Gigwalk/EasyShift/Field Agent/Merchandiser/Observa/IVueIt/Pickl Income: $40  
I didn't earn anything from Gigwalk, EasyShift, or Field Agent. IVueIt remained strong though and I was able to make a solid $40 from it. 
The gigs I've been doing on IVueIt lately are "ghost location" gigs. These are ones where I go to a closed-down store and take photos to make sure that everything is still in order, no one has broken in, and that there aren't any water leaks or other damage to be worried about. The gigs typically pay $20 and take me about 10 minutes to complete. There are three of them in my area that I regularly do. They're good because they're nearby and I can usually do them with my son on our way home from daycare. 
If you're interested in learning more about IVueIt, check out my post: IVueIt Review 2022 – Make Money Taking Photos. 
Google Opinion Rewards/Surveys On The Go/1Q Income: $17.96
The short survey apps were solid in January. Here's what I made with each one.
I, unfortunately, didn't earn anything with Surveys On The Go. I could make more with this app, but I've found the app is really slow sometimes, which makes it annoying to log into it and do surveys. That being said, if I try, I can usually make at least $10 per month with that app. 
Secret Shopping Income: $116 (plus free food) 
Secret shopping was strong again this month. It seems like it's not too difficult for me to earn $50 to $100 each month while eating free food too. 
The only website where I earn money from secret shopping is Marketforce. I keep doing the same fast-casual restaurant chain each month, and since there are so many locations near me, I'm able to do multiple secret shops and earn more money. 
Secret shopping is something more people should try out, not necessarily as a way to earn money (although you can earn money from secret shopping, as I'm able to do), but as a way to get free food. Remember, for most of us, food is our second largest expense after our home. If you can chip away at that even a little bit, it can make a difference.
For more info about how you can use secret shopping to eat for free, check out these posts:
ProductLab Income: $0  
I didn't earn anything from ProductLab because I haven't been doing as many deliveries. As a recap, ProductLab pays me $3 each week for submitting a screenshot of my earnings in DoorDash for the previous week. It's not a lot of money, but it takes only a few seconds to complete. I'll have enough to cash out my earnings this month. 
ReceiptPal/Receipt Hog/Fetch/CoinOut/Amazon Shopper Panel/Tada Income: $50.25
Receipt apps aren't going to make you rich, but they are a fairly low-effort way to earn some money for the things you're already buying. For me, whenever I get a receipt, I snap a photo of it with these apps and earn a few dollars each year. Here's a list of cashback apps I recommend. Set these up once, and they can run in the background for you. 
In January, I earned $40 from Receipt Hog. It takes me about a year to earn the $40, so it's not quick money by any means, but it's not difficult work either. Receipt Hog is limited to grocery store and convenience store receipts, so I don't take pictures of every receipt I get with this app (Receipt Pal, Fetch, and Amazon Shopper Panel work with any receipts). 
Amazon Shopper Panel netted me $10.25 for 10 receipts. This is a must-download app, so even if you don't want to bother with receipt apps, definitely get Amazon Shopper Panel because of how well it pays ($1 per receipt).
Medium Income: $4.81 
I only published one post on Medium in January, so as you can expect, it didn't lead to much income. Medium is a bit of a pipe dream for me at this point. It's a platform I find interesting and one I'd like to write on more, but I have trouble finding the time. Plus, in terms of writing, my return on investment is far higher on my own blog (which makes sense since I've spent half a decade building an audience here).
And that concludes the January 2022 Side Hustle Report!
January was a solid month. When combined with my income from this blog, I made more than I made at my last real job (which is crazy to say, the last time I had a real job was in 2019). 
I'm excited about what the rest of this year has to offer. I've got one big international trip planned, flying business class. Crossing my fingers things look good this summer. And hopefully, there will be more gig economy apps that we can try out.
If you're looking for ideas on how you can earn money using the gig economy, check out my post, The Ultimate List of Gig Economy Apps. Thanks for reading.