Welcome to another edition of the Financial Panther side hustle report! In today's post, I'll be looking over my side hustle earnings from April 2018.
If you're new to the site, each month, I document exactly what I earned from side hustling in the previous month. The vast majority of my side hustles are sharing economy/gig economy related, and most importantly, are things that I think anyone can do. If you're struggling to find ways to make extra income, hopefully, these side hustle reports can help give you ideas about things you can do to change that.
It seems to be a trend that April tends to be a down month for me on the side hustle front. Last year, I had a good excuse – I was getting married and was way too busy with wedding stuff to be doing any side hustling (though I still managed to make about $400 on the side). This year, my excuse was that I was traveling pretty much every single weekend in April. My wife and I flew to Atlanta to visit a friend, Chicago for our anniversary weekend, and DC to visit family. With all of these weekend trips, it was hard to find the time to side hustle.
Still, even with my jet-setting ways, I still surprised myself and brought in about $1,200 in extra income for the month. That's pretty incredible and it really shows that even without a lot of time, it's possible to bring in significant extra income each month, especially if you find ways to monetize your life the way that I do.
With that intro out of the way, let's look at how I earned my side hustle income in April.
Side Hustle Income for April 2018
Total Side Hustle Income for April 2018 = $1,206.74
For the most part, this past month was pretty typical of most of my side hustle months. Airbnb was down in April, Rover stayed steady, bike deliveries were pretty normal, and Wag continued to be a great source of extra income that fits in well with my schedule. 
What makes this month unique was that I managed to earn this extra income even with less free time on my hands. My wife and I have been making use of our Southwest Companion Pass that we earned at the beginning of the year, and in April, we went on three weekend trips – MSP to ATL, MSP to MDW, and MSP to BWI. I've got this grand plan to try to do 10+ short trips this year, and through April, I've already done four trips, so I'm on pace to hit my goal.
The nice thing about all of this traveling is that it allowed me to skip some bad weather in Minnesota. We missed a huge snowstorm that rocked Minneapolis in the middle of April, and while people in the Twin Cities were digging out of a foot of snow, I was with my buddy enjoying 80-degree weather and eating a nice chicken sandwich and some grits for breakfast.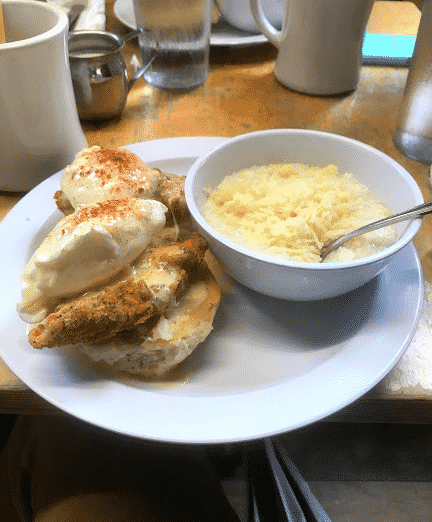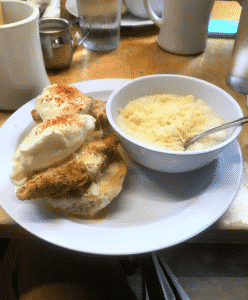 You'll notice one new thing in this month's side hustle report – I added a private dog walking client to my side hustle arsenal, which is not what I normally do (normally, I do all of my side hustling through these app-based platforms). I'll talk about this later in the post, but it's a nice little addition to my side hustle life and really fits in well with my work schedule.
Anyway, let's break down these earnings a little bit more.
Airbnb Income = $615.95 
I'd consider this a slow month on the Airbnb front, although I'm still happy that our spare room brought us over $600 with pretty minimal work. Two things account for this down-earning month.
First, for whatever reason, we just had more stretches with no guests. Maybe April isn't a busy month in Minnesota. Second, we had a bunch of weekend guests book one night stays in April. This normally isn't a problem for us, but when we're out of town (like we were for much of April), we can't flip the guest room for new people, which means that we have to block the other weekend nights and the room only ends up getting booked for one night out of a potential 3 nights (Friday, Saturday, and Sunday).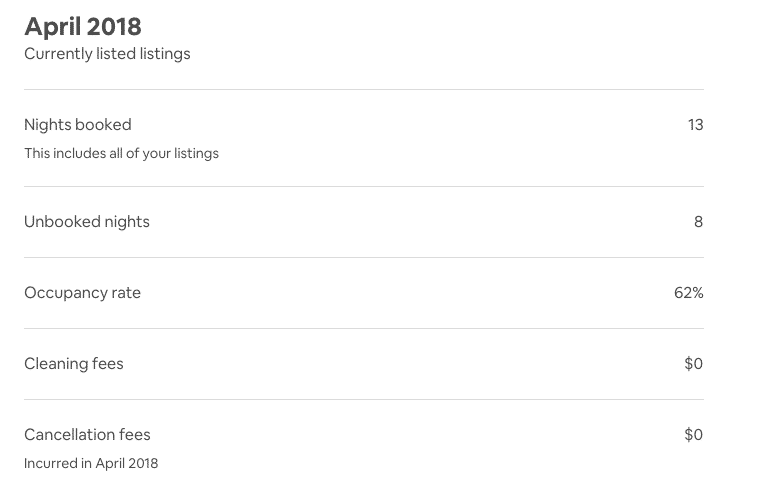 Our guests for the month were all good as usual. The good thing about traveling on the weekends is that it allows my wife and I to get the best of all worlds by allowing us to make some money from our house when we're not at home (thus, we lose no privacy). During the big April snowstorm (the one we were out of town during), our guest shoveled the snow for us, which meant that our house was even being taken care of by a guest that paid to stay in our house. 
Airbnb continues to be a good and easy source of income for us, and we definitely enjoy the fact that otherwise unused space in our house is being monetized. After our successful Super Bowl experience, we're also listing up our entire house for weekends, working on the assumption that if the place gets booked, we'll just go travel somewhere for the weekend. We've already got some bites for the whole house listing, so I'll report on how things turn out with this experiment in future posts. 
If you're considering hosting and want to support this site, feel free to use my referral link. I'd say that everyone should try hosting on Airbnb at least once. If it's not for you, you don't really lose anything beyond some time.
Rover Income = $191.25
It was a solid Rover month for me in April. I'm actually surprised that I made this much in April given the fact that my wife and I were traveling just about every weekend in April, which meant that we couldn't watch any pups.
The income from this month came from one pup we watched at the beginning of the month – a repeat guest pup that we also watched last April. This pup's owners go on spring break every year, so I guess we've become the go-to dogsitter for them. The pup is great for our lifestyle. He's super old, totally deaf, nearly blind, and sleeps all the time. We absolutely love him!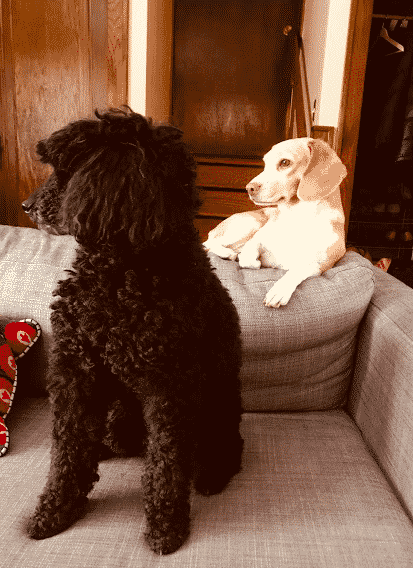 I've had this little dog sitting business of mine running for close to three years now, which seems pretty crazy to me that I've been doing it for so long. In theory, dog sitting is something that I could scale up if I wanted to by watching multiple dogs at a time. But, that would also add more work to my plate, which isn't really something I want to do. For now, I'm content with this little side business I've created (and yes, this is a real side business).
The dog sitting industry is huge right now, and it's definitely worth getting your foot in the door now while you still can. Looking back, I'm almost an early adopter by getting in on the dog sitting world back in 2015. If you're interested in trying your hand at dog sitting, feel free to use my Rover link.
Postmates/DoorDash/Uber Eats/Amazon Flex Income = $166.46
Bike deliveries picked up in April as the weather improved. I make use of pretty much all of the delivery apps out there – typically, I'll turn them all on and just do deliveries that seem to make the most sense for me at the time. Lately, I've been doing DoorDash more, just because I like that it shows me where the delivery is going, which makes it easier for me to incorporate deliveries into my commute. 
Below is a breakdown of my earnings on each platform in April:
As you can see, DoorDash was the main driver for me this month. Besides the fact that DoorDash lets me see where the delivery is going in, I've also been doing DoorDash more because my delivery rating keeps going down for some reason.
I have no idea why, but over the past few months, my delivery rating on DoorDash has plummeted, dropping from the 4.6 range all the way down to 4.2. I'm trying to get my rating back up to 4.5 at least, so I've been grabbing orders in an attempt to improve my ratings. Even with doing more deliveries, I can't seem to get my rating to go back up. Ultimately, my rating doesn't really matter too much to me, but I just want to make sure it doesn't get so bad that I get kicked off the platform.
You'll also notice that I earned 9 bucks this month on Amazon Flex. The Amazon delivery service seems really lucrative and pays the most out of any of the delivery apps by far. The problem with Amazon Flex, however, is that it doesn't seem to be very busy in Minneapolis and, most importantly, it doesn't actually let me do my deliveries on my bike. The one delivery I did this month on Amazon Flex was a short delivery that I did on my bike – Amazon, like DoorDash, lets me see where the delivery is going in advance, so if the order is short, I can grab it on my bike. Most of the time though, I have to reject orders because the deliveries are really far away and not ones that I can realistically complete on two wheels. 
Wag Income: $99.40
Wag continues to work out well for me. As I've talked about in the past, I work in an area that has a lot of apartment buildings nearby, and these buildings have a ton of dogs in them. Most people want their dog walked mid-day, which means that I can often go and walk a dog during lunch – essentially getting paid to get outside and stretch my legs during the workday (something I would do anyway). 
Walking pups on Wag isn't going to make you rich or anything, but if you incorporate it into your life in the right way, it can be surprisingly lucrative. Plus, I find it really fun. Walking a pup like the one below isn't the worst way to spend my lunch hour.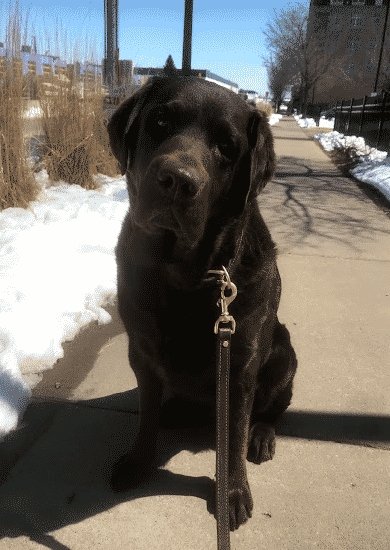 I also did a little Wag walking while I was in Chicago for a weekend. I'm lucky enough to have a wife that tolerates my schemes and when I saw this walk that was nearby, I begged her to let me take it.
I really think walking a dog is the perfect way to experience a city like a local. You can move slow, walk around and see what's up in a neighborhood that people actually live in, and you really just look like a local when you're out walking a dog. We walked the below pup near the Navy Pier – a nice little bit of exploring with a friendly pup in a new city.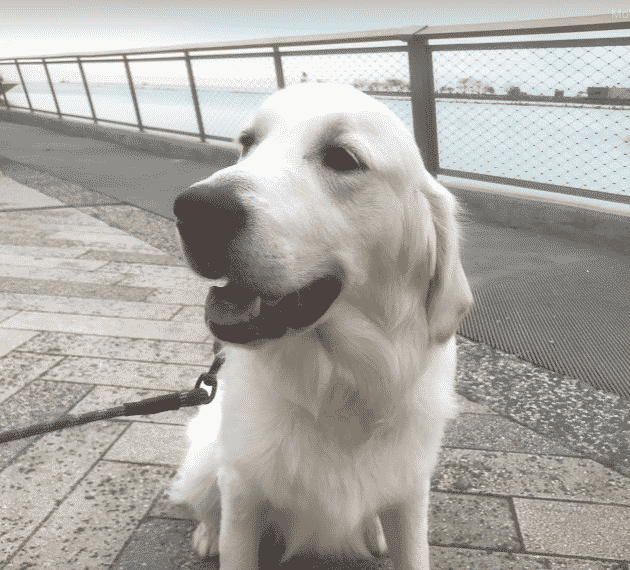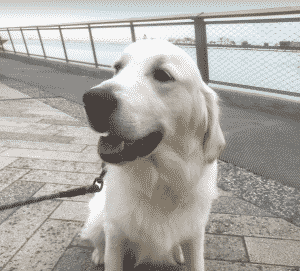 Chicago is just bumping with dog walks – I seriously think I could walk dogs for an entire day in Chicago just given the volume. And using Wag this way – as a way to explore a new city like a local – is not a bad way to use Wag. If you're curious about how Wag works, make sure to check out the in-depth post I wrote about Wag previously.
Private Dog Walking Client Income = $95
One interesting development that happened last month was that I picked up my first private dog walking client. I'd walked this pup a few times before and the owner reached out to me via text and asked if I would be willing to set up a private walking schedule since my office was basically across the street from her apartment.
It was a perfect situation for me. The owner just needed her pup to be taken outside for a potty break on days that she couldn't make it back home for lunch. For me, it's 10 or 15 minutes of my lunch hour getting some good puppy time in. That's dog therapy for me.
Funny enough, this private client turned out to be a dental student that knew who my wife was. She even stopped my wife at the dental school once to tell her how great it was that I could walk her dog during lunch. 
At the moment, I'm just getting paid by this client through Venmo, and it seems to be working out well enough for me. I'm basically getting paid the same amount that I would get paid through Wag and I don't have to deal with the hassle of taking pictures and doing all the other stuff that Wag makes you do. 
Trash Income = $5
Not much to report on the trash front. I've been pretty lazy lately, so I only sold one thing in April – a small stand that we had been using to hold our mail.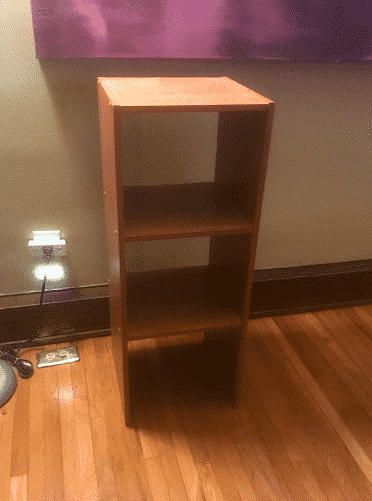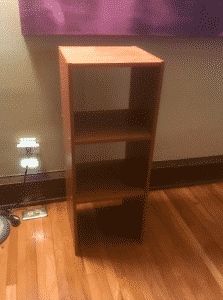 This thing wasn't too hard to sell and it served its purpose for us. Right now, my trash sales are taking a bit of a back burner since I've been focusing on other things, but hopefully, I start making some bigger sales again one day. 
Job Spotter Income: $25.56
Job Spotter worked out pretty well in April with what was my highest earning Job Spotter month to date. A lot of this came down to my trip to Chicago. My wife and I were walking around in Chinatown for an afternoon and there were hiring signs everywhere. I must've made $10 or more on signs that day. 
Job Spotter continues to be an app that I think everyone should have on their phone since it takes no time to use. Read my in-depth review on Job Spotter if you're looking for more info about how it works. 
Google Opinion Rewards/Dabbl/IQ Income: $8.12
I continue to use these short survey apps on my phone that earn you a small amount per survey but take up very little of my time. I think all three of these survey apps are worth having on your phone. They're not hard to do and, at a minimum, earn you some beer money.
Google Opinion Rewards pays out once you earn $2 from surveys, and the surveys only take a few seconds to complete. You should earn $2 each month for a minute or two of your time. 
Dabbl is less easy to cash out but still worthwhile to use. You can cash out your earnings for gift cards once you hit $5. I made $5 in April and then cashed it out for a Target Gift Card. 
1Q gives you random, one question surveys every once in a while that literally take 1 second to complete. You earn 25 cents for each question that you answer. The downside is that 1Q doesn't offer you a lot of questions, but when they pop up, they're easy to do. I was able to earn $1 by answering four questions in April. 
My advice is to download all three of these apps and just leave them on your phone. Google Opinion Rewards and Dabbl both don't have referral links, but 1Q has a referral link and I get 25 cents if you use it (so if you feel like dropping me a quarter for my time, feel free to use my 1Q link).
And that concludes the April 2018 Side Hustle Report! 
April turned out to be pretty decent. Even with less time on my hands, I still brought in over $1,000 on the side. For the year, I've made over $1,000 extra dollars each month basically by doing the stuff I'm already doing. There's money out there people! 
If you're interested in learning more about how I earn money on the side, be sure to also check out my side hustle report page. I've done a ton of different stuff over the past two years to make extra money, so if you need ideas, skim through some of my other reports on the side hustle report page to see the things I've done. Not everything will work for you, but I bet you can incorporate one new thing into your life. And for your convenience, below are links to my last five months of Side Hustle Reports.
March 2018 Side Hustle Report – $1,682.55
February 2018 Side Hustle Report – $3,555.79
January 2018 Side Hustle Report – $1,147.67
December 2017 Side Hustle Report – $1,022.53